Citrix Mobility Apps Brand Guidelines for Social Media
Social Media Brand Guidelines for Citrix Mobility Apps
Social Media Brand Guidelines
The Challenge:

Help a corporate social media team struggling to keep-pace with managing social media interactions across a portfolio of SMB SaaS products while aligning with brand best-practices.
We live in a fast-paced world when it comes to customer expectations around brand interaction, and no one knows that better than a corporate social media team.
Social media is all about timely and engaging responsiveness across channels, and the Citrix Mobility Apps social media team was struggling to adhere to brand guidelines that were not designed with a level of detail that supported and informed the type of real-time posting that is a hallmark of effective social engagement. With no functional definition for how to stay 'on brand' in a social media context, they were continually running up against often-conflicting criticisms by key stakeholders on various product teams, as well as senior corporate leaders whose focus was on strategic brand alignment across the product portfolio. Additionally, they were struggling to scale resources to meet the needs of a growing list of products they were responsible for representing online.
The Innovation:
 The Citrix Brand Experience team worked with the social media team to understand the unique needs of their workflow and design process. 
Rather than focus on modifying existing corporate brand guidelines, we recognized a need to  to develop social media-specific brand guidelines that not only provided a perspective on brand expression for social media, but that were uniquely designed to integrate with the social media team's practice-specific workflow. The social media team had aligned around using Canva as template-oriented design tool that would let them create new social content without having to overtax existing internal design resources. After working to understand their design process and identity the pain-points that they were struggling with – both with generating social media content and with working around gaps in corporate brand guidelines – we regrouped and developed a set of brand guidelines tailored to to the unique needs of a corporate social media team.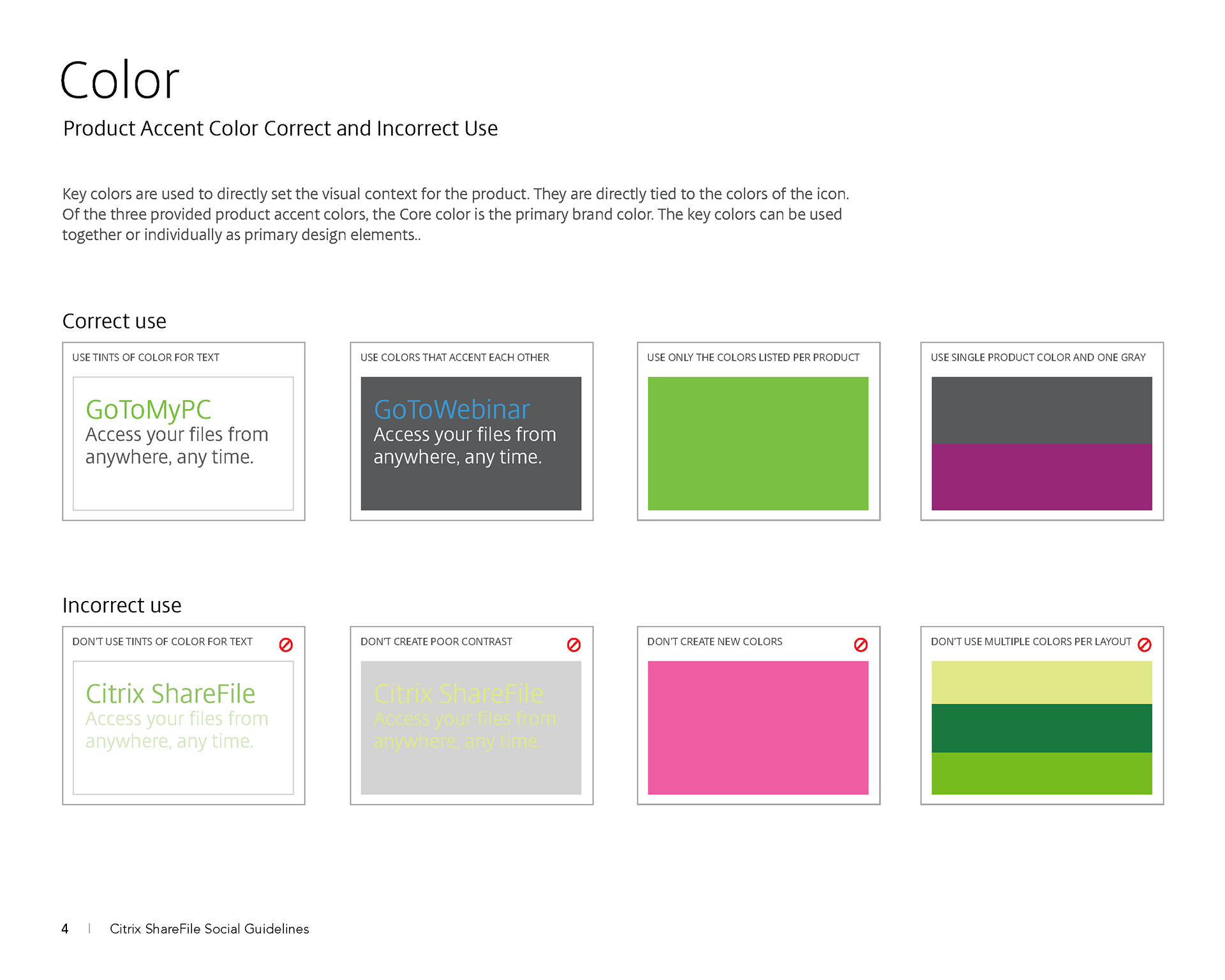 The Transformation:
Social posting frequency increased because the time needed to develop new posts was cut in half. What's more, the look, feel and content focus of social media posts across channels and products became significantly more aligned with the Citrix brand identity. 
These new social media guidelines were socialized not only across the design organization, but also across key  stakeholders across products and within executive leadership. with the entire Mobility Apps leadership team onboard, the social media team was able to significantly increase their social engagement while building trust with the leaders of the products they represented.